Day 1: Arrival in Damascus
What a wonderful day for a journey! The weather was beautiful & warm. I turned on my audio book, rolled down my windows, & enjoyed my long trip alone to Damascus, VA. There was very little traffic and the scenery was something I can never get enough of.
Damascus isn't a big town, but it is a bustling one. Being a town that the Appalachian trail goes right through, means there are lots of hikers. Not only that, it's called "Trail town, USA" because there are many more trails connecting here.
I'm staying at Crazy Larry's cottage. It's right next door to his hostel. Hostels are like big bunkhouses. Multiple people, you may or may not know, staying in the same rooms. I opted for the cottage with a private room & bath. My room has a beautiful, cherry 4 poster tall bed, just like my Aunt Zanny used to have in the hills of Kentucky. The cottage is clean & well kept. The hostel, on the other hand, is made for hikers on a budget. Crazy Larry has free food on the porch for any hikers needing it. A stack of clothes by the door in case they need to borrow something while they do their laundry. You see, most hikers only have two sets of clothes with them: hiking clothes & sleeping clothes. Inside, Crazy L's filing system was covering his kitchen table with his laptop but he seemed organized enough. He had my reservation so that's all that mattered to me. As he walked me over to the cottage, he fired up a joint. "Hope you don't mind the weed," he says. "I smoke this shit all the time now. It's no worse than a beer." I shrugged & told him it was his house, I'm just a guest. (It's legal in VA)I guess what I didn't see inside the hostel, according to a new friend I made, was the pile of pot on the counter! Anyhow, Larry is cool. Older guy, used to hike & raise hell. Now he runs this business, doesn't raise much hell anymore but doesn't put up with any crap either.
I met three thru hikers right after getting settled in: Alley Cat, Tunes, & Twister. We had a great dinner together and swapped hiking stories. They are zeroing tomorrow and headed out Monday NOBO (north bound). I leave tomorrow, shuttling up trail and hiking SOBO (south bound) back to Damascus. I should pass my new friends Monday sometime.
One other lady I met was Firewalker. She earned her name in a unique way. She was about to walk through a portion of the Smokies when she came upon a group doing a controlled burn. She was told she couldn't pass for 24-48 hours. She wasn't having that and insisted she would go through. After much persistence, they finally called ahead to tell the others of the very stubborn woman. They told her to give them a couple hours and they'd let her through. As she finally made her way through, she walked among the charred, burning ground cover. The only thing not sizzling was the trail. Her biggest worry was how to tell her husband she earned the name Firewalker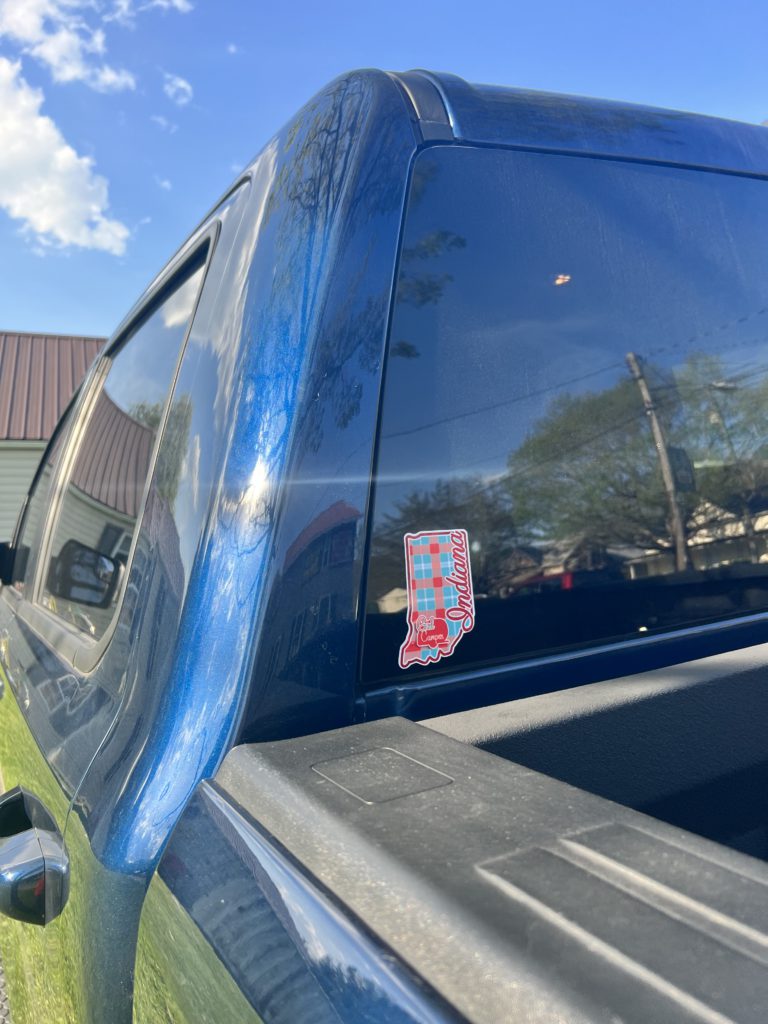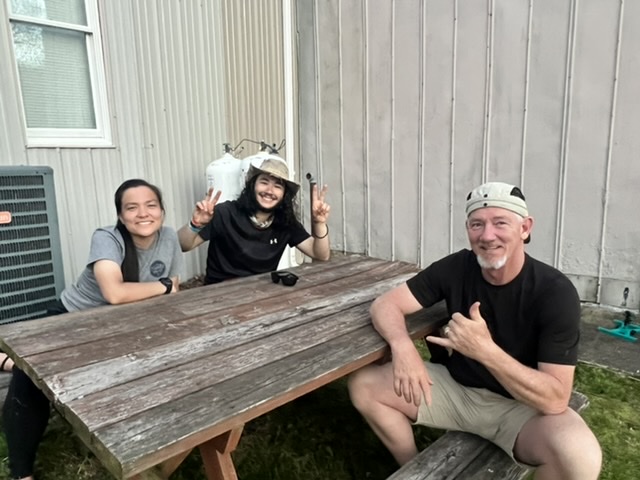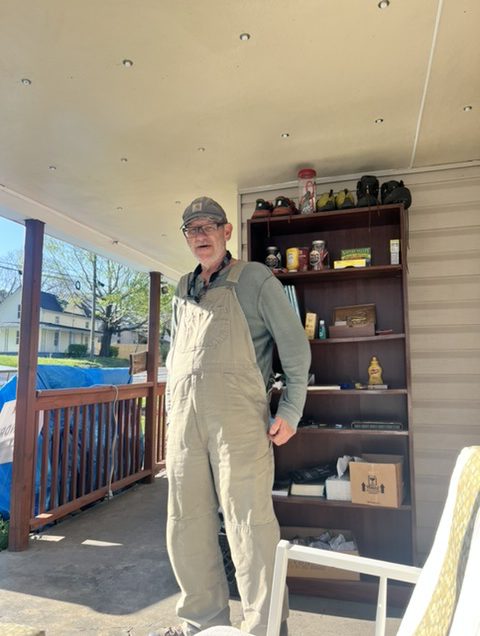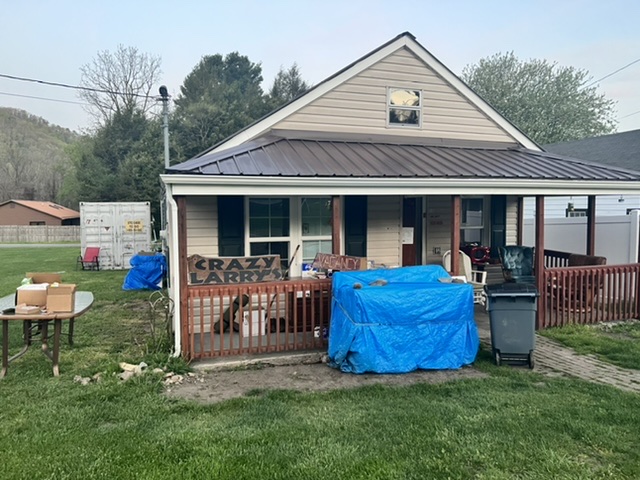 Day 2: Leaving Damascus: into the woods I go, to loose my mind and find my soul
I awoke from a decent night sleep early, as I tend to do. There was a cafe down the way that opened at 7:00 am and I wanted to beat the crowd. Such a cute place with local art work on the walls and tables made of old sewing machine bases.
This bustling town of an evening is definitely sleepy at 7am. So peaceful in its valley, surrounded by mountains. As I enjoyed my breakfast sandwich & dirty chai from the Main Street Coffee & Cream, I watched the sun rise up over the mountains and shine on the sleepy town. The warmth awakened one hiker at a time as they started to emerge from their different hostels and sleeping rooms.
When I arrived back at my cottage kitchen, I ran into Alley Cat where we talked hiking gear and hiking stories. Such a unique community to walk into. They're such an accepting group. Live and let live all the way.
I talked with Crazy Larry before leaving. It was his birthday today and hikers called best wishes to him as they passed. I sat on his comfortable, cluttered, welcoming front porch waiting for my ride.
Gypsy pulled up in her little SUV to shuttle me to Massie Gap where I'd begin the hike. It's the second time she's shuttled me and such a nice lady. She and her other half, Lone Wolf, thru hiked years ago and now shuttle other hikers. I told her how I couldn't find a hiking mate this time around. She insisted that next I call her! She's always looking for a reason to get out and hike. Nice offer, and I might, but she'd probably hike circles around me! I'm not the fastest hiker you'll ever meet!
She dropped me off at my starting point, which had a pit toilet, score! Massie Gap is in the Grayson Highlands State Park. The land of the wild ponies. I happened upon 3 of them as they grazed on the grass. They walked close but they weren't rude or pushy, as I hear they get further into hiking season. Like any other wild animal, they'll figure out where the treats come from even if feeding them is frowned on.
The views in the highlands were more than I could have wished for. I could see mountains on top of mountains on top of mountains. Simply breathtaking. I didn't think I'd get out of that section just because I kept stopping to enjoy the view. I passed tons of thru hikers, some day hikers, a trail runner passed me. The age limit here is, well, kind of like a board game: from 0-99. Not sure the oldest hiker's age but I know he was in his 80's and still going strong!
I found a campsite after hiking 9 hours, 29,000 steps & 10 miles. Set up my tent, cooked dinner, made some hot tea, built a fire, and…….. realized I forgot my spoon!! My meal of mushrooms, spinach, chicken, & rice was delicious! I ate it with the lid of my coffee cup. A girl has to eat and I was NOT wasting that grub just because of no spoon!
As my fire dies down, it's almost hiker midnight, 8:30, and it's about time for bed. I'm pleased with my journey and progress so far. Tomorrow should be a little easier. I have a lot of downhill ahead of me. However, downhill has its own set of issues too.
So goodnight peaches. I'm off to dream of ponies and hills.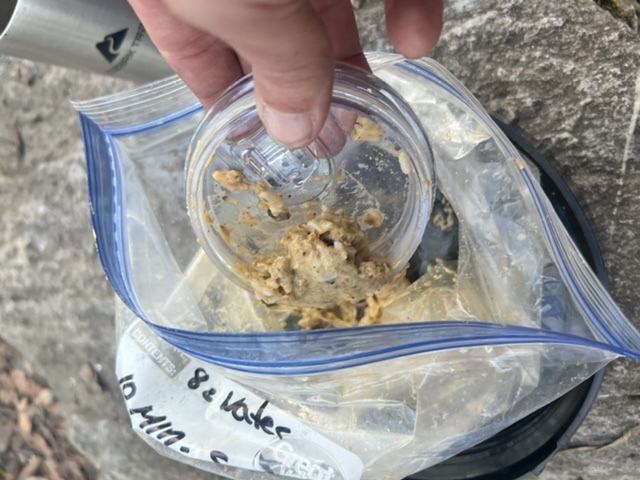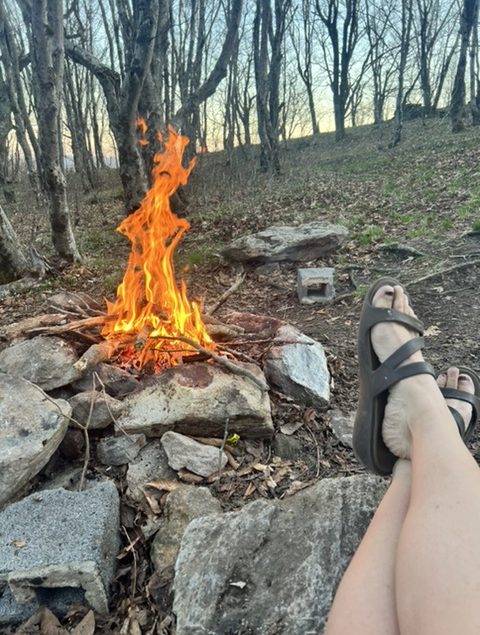 Day 3: Just keep hiking, just keep hiking
Last night was my first night ever to sleep completely alone in the woods. I've been alone in my tent but with hiking companions a stone throw away. Last night, no one close enough to throw rocks at but close enough to hear me yell if I needed something.
I slept well. Typical night in a bear taco(sleeping bag). I woke every hour to turn, then go back to sleep. Nothing weird or scary happened. Nothing to freak me out. Such a nice night. In fact, about 5am nature came calling and I had to get out of my tent. Since there wasn't anyone close to me, I didn't have to travel far into the woods to find the perfect tree. When I looked up to return to my tent, I was in utter awe at the sky. It was a clear midnight blue with a million stars shining down. They were so close, and so big, I felt I could touch them. The Big Dipper was to the north hanging there as if waiting for God to grab the handle and scoop all the other stars up. If you ever have the chance to look at a clear star filled night at 5100ft, seize the moment.
Finally around 6, I decided to emerge from my tent, retrieve my food, & make some well deserved coffee. I sat in my tent facing East and watched the sun crest over the mountains. What a fantastic way to start the day! I've done some yoga stretches (thank you Allison Crim) and now time to pack up and hike on!
It was an easy(ish) hike out. I stopped at a spring to refill my water bottles and ran into my shuttle driver, Gypsy! She was shuttling someone else & decided to do a hike if her own up to Buzzard rocks. Gorgeous view. She was there when I made it to the top and took some photos for me.
I passed so many hikers today and I'd say half were solo women. Lots of dogs, including one little Yorke who'd walked almost the whole 500 miles!
As the trail neared the Virginia Creeper Trail, I walked along a river until I came to a foot bridge. I crossed the river by using that bridge but at that point, I lost my white blazes! (White blazes mark the route of the AT. They are placed on trees at eye level along the trail). I could see a parking area under the bridge and people so I decided to go down. It was such a steep decent, I had to scoot on my bottom 1/2 the way. I got down there to realize it was not where I was supposed to be. Then came the tricky part, getting back up the hill. I made it & stayed on 2 feet the whole time. I'm just glad no one was watching! Graceful, it was not. I found the trail again and passed Alley cat. On up further I saw Tunes & Twister. I passed a man and woman the man had his pack and hers, probably 30# each, and she followed behind. By the look of her, I hope they were just shooting for the next road crossing and a ride someplace. I think the hills got the best of her today.
The last push of my day was tough. Very steep mountains but the bright spot was I'd be at my next camp spot soon.
Now I've gotten my water for the morning, had my dinner, and I'm once again tucked into my bear taco. I might sleep all the way through tonight. I hope. Rain is coming about 2am. Which means by last 4 miles will be wet ones.
Today was 32,000 steps, 12.2 miles, & 11 hours of hiking.
Sleep well, peaches. I know I will.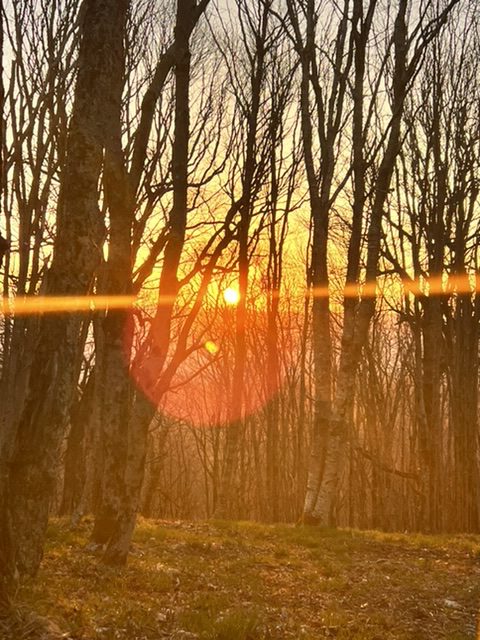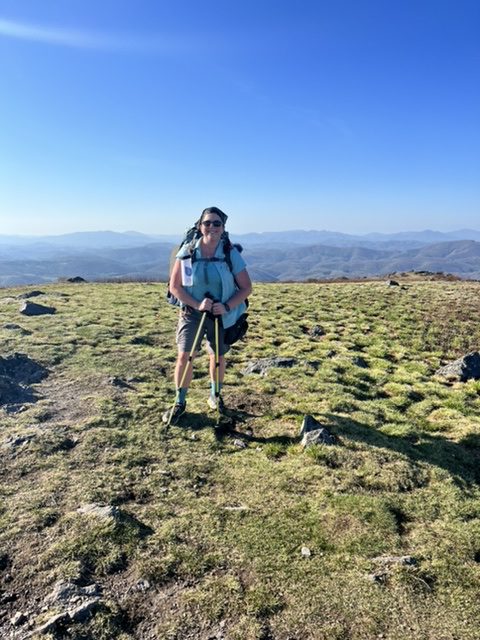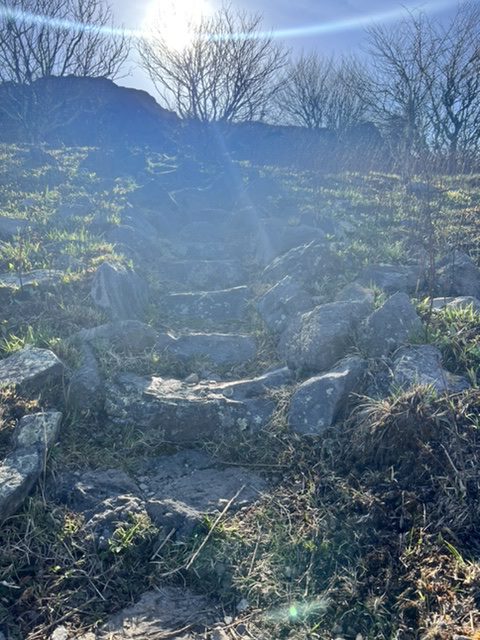 Day 4: Walking in the rain
Luckily the weather man was off a little so I awoke to a nice day with no rain. I could feel it was coming though. So I packed and left camp about 8. It was a down hill trek for most of it. Then about 9:45 it started to rain.
I got out my map, because in my mind I was only 4 miles from the end. What I didn't realize is when I plotted this trip last year, I had planned on ending before Damascus, not IN Damascus. As I fixed my mistake, I now had an additional 5 miles to walk in the rain before my hot shower and my reward Diet Coke. Which is funny because I don't even really drink soda anymore! That's a total of 9 miles for the day and I wasn't sure what terrain I was in store for on the AT. No service to call a shuttle. Dwindling energy to do many more climbs. Then I remembered the Virginia Creeper trail. I'd been walking above it for sometime. I found a way to cross to it and walked my remaining 5 miles in to town on a down sloped trail instead of the ups and downs I was sure to be ahead of me on the AT. I was afraid of what time I'd arrive back in town if I took that route!
The scenery was beautiful despite the rain. I crossed many pretty foot bridges and hiked along the river the whole time. It was too wet to get any pictures so I'll just have to rely on my memory.
I did pass a few hikers today but I think a lot are holed up in hostels waiting for tomorrow's clear day. When almost to town, a lady shuttle driver stopped to see if I needed a ride. I was less than a 1/2 mile away at that point so I declined. I was soaked anyhow and her van was really nice.
I got to Crazy Larry's and found my room. This one even nicer than the first one. An immediate hot shower, hot tea, and a sit down were in order.
So to sum up this trip, I'm sunburned, sore in places you didn't think could be sore, don't know if my feet will ever fit back into my shoes, and so empowered and happy that I did it! I didn't know if I could hike solo. Part of the downfall is not having anyone to share in the ups & downs (literal and figurative) or the gorgeous views or funny trips & falls. Sometimes it's enough to be the only one to see these things. I'll treasure this time and my first solo hike.
I always say my parents raised me to be fearless, so fearless is what I'll be.
See you soon, Peaches. Hike on.
-Charity
9 miles & 22400 steps